Lil'man is 37 months.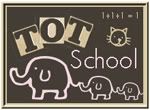 Happy New Year!  I cannot believe that it is already 2011!  Last year just flew! I hope you all had a wonderful holiday.  We had so much fun and loved spending time together as a family.
I can't believe it, but we actually did some Tot School this week.  We learned all about
Winter
.  Below are just
some
of the things we did. You can see other activities from this
unit
by visiting Amber at The Belly of The Whale.
Language Arts:
We practiced spelling clothes that we wear in winter.
We also did some more writing practice.  The boy decided that he wanted to give the more advance sheet a try.  I was impress with how much his writing has improved.  He doesn't stay on the lines completely, but he doing a much better job at trying to trace them.
Here are the books that we are reading:
Amazon.com Widgets
Math Concepts:
We did another Color by Number this week.  This time we did the
Snow Kid
that we found on
Making Learning Fun
.  The boy has gotten so much better at coloring.  At first he was just coloring on top of the number as always, so to encourage him to color in the whole space I outlined it.  And it WORKED! He went back and colored in all of it!  I think this is the best picture he has ever colored.
Science: This we did a little science experiment.  We observed an ice cube and then watched it melt.  We tested to find out if an ice cube would melt faster in warm water or in no water.  I had the boy tell me which ice cube he thought would disappear first.  He said the yellow.
Feeling and Smelling it.
He even had to taste it!  Oh, and his hypothesis was correct!
Extra:
We had a lot of fun these last 2 weeks.  Daddy had quite a few days off, so we got to do a lot of fun family activities together.  We played in the snow and created snow angels.
We checked out a cool light exhibit!
My Favorite:
This picture captured the true side of my boy.  He is usually so silly and singing all the time.  He can be so LOUD!
That was our week.  Don't forget, you can download all the printables (not all seen here) for FREE  at 2 Teaching Mommies.
Next Week we will be focusing on Snow! I hope you're able to come back and check it out!
Don't forget to see what others are doing at 1+1+1=1!