Lil'man is 36 months.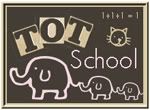 As you may notice in the pictures the boy was fighting a little cold this week.  We tried everything on the plan this week, but honestly we didn't spend much time on any of it.  I didn't push it.  The boy is still coughing, so we will probably take it easy tomorrow too.
Language Arts:
For our language arts this week we created another Spelling book.  Lil'man loves these.  He's a big fan of letters. He practices letter recognition with it and even matches lower-case to capital letters.
He has been doing so much better with "mazes".  He finished the alphabet maze without even thinking, he did it so fast. Lil'man also colored a few pages in the C.H.R.I.S.T.M.A.S Coloring Book.
Math Concepts:
For math he did another shadow matching activity.  I was afraid that it may be a little hard for him because some of the shadows overlapped, but he did it without any help.  I was very impressed.
We also did a Roll & Build: Nativity and measured the different key figures in the Christmas Story.
Social Studies/Crafts:
This week he preferred the crafts over all the other activities.  One of his favorites was when he was painting with watercolors.(By the way, our water colors were
homemade
!) As he was painting an hidden pictured was revealed.  It was an angel that my husband had drawn for me in white crayon.  You can see a little of it below. We talked about how the angels appeared in the sky to tell the shepherds of Jesus' birth.
Lil'man also created a timeline of the Christmas Story.  We used the book of Luke.
The last craft we did this week was the Tube Nativity Scene that we found at
Dollar Store Crafts
.
Extra:
This week we made star sugar cookies for our family night
.
  It was a new recipe and I wasn't that impressed, but Lil'man sure enjoyed helping.
Here are some of the books we read this week:
Amazon.com Widgets
My Favorite:
This picture was captured during the boy's
3rd birthday party
.  I just love how he's two "fisting" it…stuffing the cake in, while scooping up some ice cream.
That was our week.  Don't forget, you can download all the printables (not all seen here) for FREE  at 2 Teaching Mommies.
Next Week we will be doing our last week of Christmas by learning about a variety of Christmas Symbols!
Don't forget to see what others are doing at 1+1+1=1!