Lil'man is 34 months.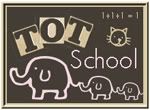 This week we learned all about
People Who Keep Us Safe
– Policemen and Firemen (not pictured in my post).  Below are just
some
of the things we did. You can see other activities from this unit by visiting Amber at The Belly of The Whale.
Language Arts:
To start our week off we did S is for Safety collage.  I found an assortment of images, such as smoke detector, various road signs, bike helmet, fireman, police officer, etc. and talked about how each of these things keep us safe.
One of our favorite activities was hunting down "runaway" letters on the day we were learning all about police officers. He loves his hand-me down costumes and any chance his gets pulls them out.   You can see in the picture below he got a call on his walkie talkie  that letters were hiding and he needed to find them. 
Basically, we just hid letters from his
Letter Foam Play Mat
around the house.  Once he found them he had to tell me what letter he found and the sound it makes.  Then he put them in jail.  He had a lot of fun with this activity.
(Side Note: Melissa & Doug have role play costume sets-
police officer
,
firefighter
and
more
.
)
As always we read lots of  books this week.
Math Concepts:
I really think the Police Day was the boy's favorite this week. He work on number recognition and counting by playing Catch the Robber.  He really liked this game and had to play it with his Daddy.
He also worked on number recognition when we talked about 9-1-1.  I had him pretend to find the numbers on the
phone
, but then he just wanted to color it.  
Social Studies Concepts:
Since we were learning all about community helpers that keep us safe this week, we had to do some of the fun activities from Homeschool Creations
Police
&
Fireman
Lapbooks.  I didn't get pictures, but we also talked about Fire Safety (Stop, Drop & Roll) and Stranger Danger (check out
2 Teaching Mommies
for some ideas on how to teach it).
Extra:
This week we had fun doing another craft together as a family.  We decided to do
Straw Art
.  Our goal was to turn a blob of paint into image of a fire by blowing through a straw.  Below you can see our first attempt.  The paint was too thick for blowing and Lil'man had a hard time figuring out where to put his straw. 
So, after watering it down a bit and helping the boy hold his straw just so, it was a success.  Plus, it helped the way the paint was placed.  The activity is definitely more fun, when you don't get light headed or winded trying to move the paint around.
For Fun: This week we went to see Veggie Tales Live.  Lil'man loved it.  While we were there we had him try on a Bob the Tomato hat.  His red little checks (it was hot in there) really complete the look, don't you think?
That was our week.  Don't forget, you can download all the printables (not all seen here) for FREE  at 2 Teaching Mommies.
Next Week we will be focusing on Pumpkins! I hope you stop by to check it out!
Don't forget to see what others are doing at 1+1+1=1!