Lil'man is 34 months.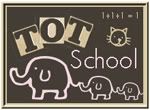 This week we learned all about
Pumpkins
.  Below are just
some
of the things we did. You can see other activities from this
unit
by visiting Amber at The Belly of The Whale.
Language Arts:
This week we did quite a few fun activities with letters.  (See the rest at
2 Teaching Mommies
  or  The Belly of The Whale.) The boy's favorite was making the letter P with play-doh.  There is just something about play-doh. He isn't very good at rolling the play-doh yet, so that was done for him, but then he used the pieces to make the Pp.
As always we read lots of  books this week.
Math Concepts:
We tried a new activity in math this week.  We did a number maze.  Basically, he had to help the kids get to the pumpkin patch by showing them the way.  To get there he had to draw a line from 1 to 10 in order.  He did a really good job.
We also did a Flip & Color (Cover) activity.  Lil'man had to count how many dots were on the card he flipped and then cover the pumpkin with that number. Instead of coloring in our pumpkins, we decided to cover them. The boy hasn't been into color lately.  You can use a variety of objects to cover the pumpkins, such as: orange pom poms,
bingo chips
,
pumpkin stickers
,
dot paint
, magnets, etc.
Science Concepts:
We had a lot of fun with science this week.  We learned all about the life cycle of a pumpkin.  I read
From Seed to Pumpkin
and stopped at each stage to have the boy find and glue the picture that match the stage we just read about to his paper plate.
We also learned about the parts of a pumpkin.  Instead of creating a felt pumpkin like I did for the
apple
, this time we purchased a small pumpkin and cut it in half.  As we explored it, I told the boy the different names of each of the pumpkins parts.  Then I just let him play.
Extra:
This week we went on a field trip to the
pumpkin patch
.  There is so much more to do at pumpkin patches these days.  Just check out all the fun stuff Lil'man enjoyed.
For Fun: I captured some fun shots during our family outing to a near by deciduous forest.   We had a lot of fun exploring a dried up stream and playing in the fallen leaves.
That was our week.  Don't forget, you can download all the printables (not all seen here) for FREE  at 2 Teaching Mommies.
Next Week we will be focusing on Halloween! I hope you stop by to check it out!
Don't forget to see what others are doing at 1+1+1=1!