Lil'man was 23 months.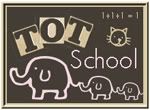 This week we are on a "stay-cation" from Tot School.  I'm hosting Thanksgiving at my house this year and I needed the time to focus on getting prepared for it.  However, I did want to share some of the things that we did last year, as well as some great printables! 
Colorful Turkey:
I created this after reading about the
Colorful Turkey Caddy
at Family Fun. The boy loved it last year and he still loves it this year.  I used a styrofoam ball cut in half for the body and then painted it brown, but you could easily replace the styrofoam with play-dough. (
Check out the full write up
here
.
)
Turkey Hats:
This was one of our favorite activities last year.  It wasn't the making of the hat, but the acting out of the story
Run, Turkey, Run!
This was another idea from
Family Fun.
  (
You can see the original post here and the video re-enactment below.
)
Felt Turkey:
Last year I was inspired by I
tty Bitty Love's
Felt Turkey
activity.  I had a lot of fun creating this for the boy.  Unfortunately, he didn't do to well with it.  We just pulled it out this week and he's got it down.  I think I'll need to add more feathers to my collection, so we can do patterns with it.
Roll & Build- Pilgrim and Indian:
This is a Roll & Build with a twist.  We turned it into a dice game.  It is made for two players. My husband created  our Indian and Pilgrim with foam and magnets, but since my husband loves me, and I love you, he turned it into a printable just for you! My husband is so good.
Shape Pilgrim:
This was our very first shape creation and he loved it.  Ever since, we've be trying to discover or create new things with shapes.  (
Read all about it
here
. If you check out
2 Teaching Mommies
, you can download and
Shape Indian
too.
)
Books, Books, Books:
We are currently still reading our library stash of books from our
Turkey
themed week and our
Thanksgiving
themed week. I recommend all of them.
Turkey Picks
Amazon.com Widgets
Thanksgiving Picks
Amazon.com Widgets
So there you go!  Those were all the fun Thanksgiving activities we did last year.  Don't forget, to check out 2 Teaching Mommies for more Thanksgiving ideas, such as the Thanksgiving Tot Pack and the Gobble, Gobble Game.
Next Week (well M, T and W) we will be focusing on Football!  I hope you stop by to check it out!
Don't forget to see what others are doing at 1+1+1=1!
Check out more holiday ideas at: